Success Story
How MineTan went from 249% to 466% return on ad spend in just three months
Reading time: 4 mins
The client is a worldwide known brand that specializes in tanning cosmetics with a one-hour development formula. The market is packed with competitors and retailers who sell MineTan products. The USA is the second-largest market for MineTan after Australia, where these products have significantly impacted the market. MineTan commercializes products that fit any type of skin tone – from tanners to tanning kits with salon-like formulas. With a one-of-a-kind formula based on natural DHA, you can get tanned in just one hour.
The Challenge
Our main challenge and goal was to grow the current sales and revenue generated with little to no impact from Google Ads. Our initial analysis of the brand showed a high focus on branding campaigns. However, there were no campaigns that attracted new customers, raised brand awareness, or built up our client's position on the US market.
Our second challenge – our main goal – was to prevent campaigns from going below a 250% ROAS. This looked a bit odd, as most e-commerce stores would aim higher. Nevertheless, doing so would have proved to be tricky, especially when we had only branded campaigns and Google placements that were packed with competitors.
The Solution
Upon initial analysis, we decided to optimize the current campaigns to keep the traffic and sales going while planning on new targeting campaigns and creatives. As our client was getting only a couple of sales weekly, we moved on to prepare all sorts of campaigns – Shopping, Display, and Search – that would allow us to cap into the tanning market.
Instead of a standard Shopify plug-in, we used DataFeedWatch to control how products were shown in the search and display results. We were aware that shopping was one of the main drivers of purchases for competitors, and with great products and prices, we were able to tackle them in terms of auctions and ad positioning.
Next, we tested new ad variables and biddings for branded Search campaigns that were using an older version of text ads.
Further on, we rearranged the current generic Search campaigns by using a more detailed structure, exact match phrases for our top picks, and modified broad match keywords to harvest the search results and look for any opportunities to stand out.
We started using dynamic display ads for remarketing and showcasing the previously displayed products that were relevant to product viewers, general visitors, and customers with abandoned shopping carts. We used the 25% discount on the first order as our top priority in regaining lost carts and driving conversions among new customers.
We knew that once they had placed their first orders, they would come back for MineTan products in the following few months. This insight was based on our analyses of frequently bought products, average order values, and customer retention.
As we noticed more and more queries for exact products and solutions, we also expanded the usage of branded campaigns.
In terms of generic ads that competed with other brands, we knew that our products provided benefits that could easily outperform other brands' products, so we focused on showing every important aspect of production and results. We also showcased the number of worldwide customers.
With Shopping ads, we tested two different angles:
a smart campaign that advertised all MineTan products, which allowed Google AI to optimize it
a standard Shopping campaign that was split by product category and margins that would let us optimize campaigns daily with new negative keywords and bids
The results proved that the smart campaign was able to generate a higher ROAS, thus allowing us to focus on new Display and Search campaigns:


In the Search campaigns, we used a third-party tool analysis to optimize manual bids and to conduct A/B tests for headlines and description lines:


Pain Points
Before we moved on to work on the campaigns, only the Google Analytics transactions were attributed to Google Ads, leaving little information for the AI to learn more about our customers.
The initial setup of the Shopping campaigns showed us that there were loads of work to optimize the product feed and analyze the correct bids for different products.
Moreover, the top-of-funnel campaigns initially struggled to deliver the desired results, as brand awareness in the USA was not as high as in Australia.
Therefore, we needed to rethink the way in which we attracted new customers and make our ads more informative and less sales-oriented.
The Results
Google Ads
In just three months, we were able to grow from a ROAS of 249% in August to a ROAS of 466% in October:


Despite the prognosis of sales' growing down by 10 to 15% out of the summer season, we managed to improve the ROAS in October by 69%, compared to the previous year's results, when the ads focused solely on branded campaigns: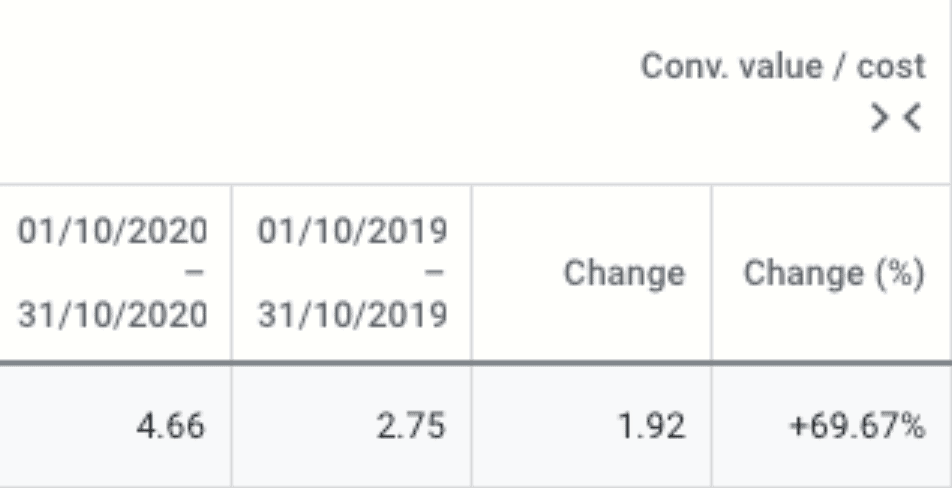 More Success Stories