Here's Why Page Speed Optimization Matters More Than Ever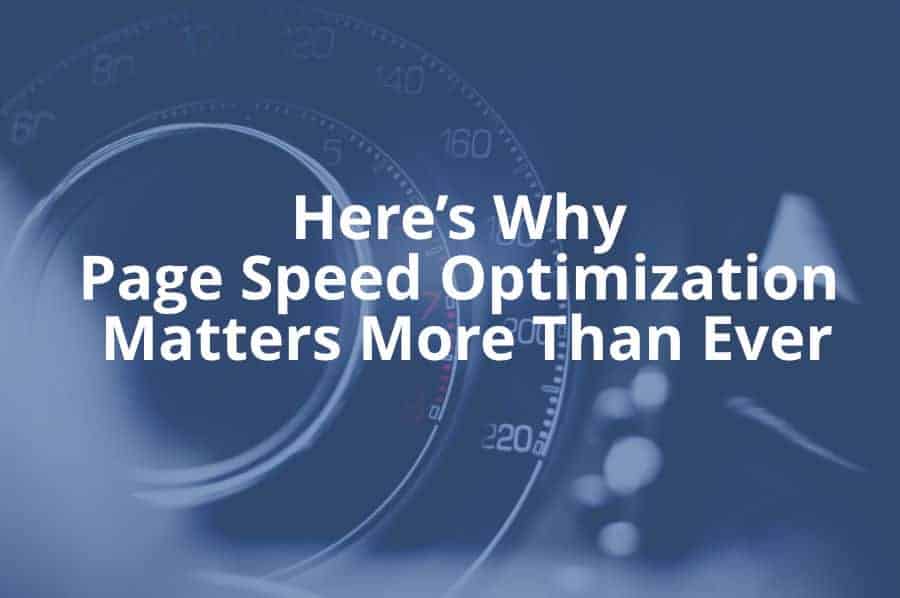 When it comes to ranking high on Google and other Search Engines, few things matter as much as Page Speed Optimization.
Google's latest update pays more attention to how many minutes a page takes to be fully loaded on mobile devices, which is why having a website with quick features is as important today as having high-quality content, using keywords or linking to both internal and external pages.
Furthermore, page speed is key to a user's overall experience on your website. After all, as Google points out, people want answers to their questions and they want them FAST, so if your site takes too much time to load, they are very unlikely to visit it again.
"People want answers to their questions and they want them FAST, so if your site takes too much time to load, they are very unlikely to visit it again."
Therefore, optimizing your website only for desktop won't do you any favors if you want to appear on the first pages of searches. You need a responsive page that will load as fast on mobile devices as it does on a desktop.
On this post, we'll give you enough reasons to optimize your page speed ASAP! We'll also give you some tips to make your website load faster to keep users coming back for more AND to (hopefully) rank higher on Google.
Scroll down to find out how you can optimize your page's speed right now!
Two Reasons for Page Speed Optimization
1) Page load time affects conversion rates
Whether you own an e-commerce or a blog, the ultimate goal is to turn visitors into clients, completing the conversion process and, as Hubspot points out, if your site takes longer than three (3!) seconds to load, you may face losing nearly half of your audience.
These days, Internet users are more impatient than ever and will move to another page if yours is not running smoothly. Also, as mentioned before, it's very unlikely for a user to go back and give a website another chance if its overall performance is not satisfying.
While it's true that mobile users are slightly more forgiving (they will wait an average of four seconds for a page to load), your sales will experiment a considerable decrease if the load speed is not optimized.
On the other hand, if your page is purely educational, you could also benefit from having a fast website that your readers can return to at any time.
2) Optimizing your pages allows Google to index more parts of your site
Regardless of the size of your website, it probably includes several landing pages or sections to address different services, products and parts of your business.
If all those different pages are optimized to load correctly and quickly, their chances of being indexed by Google are bigger and, therefore, the main page could also rank higher whenever someone in your targeted audience searches for any of your keywords.
The main lesson here is that, while it is incredibly important to have a fast-running main page, every part of your website needs to be optimized in order to tell Google and other Search Engines that things are running smoothly AND for your visitors to be motivated to come back.
Now that we talked about some of the benefits of page speed optimization, we're sure you're wondering what you can do to improve your overall page loading time. Keep reading to find out how you can make your website faster!
What You Can do in Terms of Page Speed Optimization: Best Practices
Best practice #1:  Pick your web hosting service wisely
First things first: If you are only looking to start your own page, it is crucial to choose the appropriate web hosting service for your business or brand, according to its unique needs, strengths and weaknesses.
While a lot of the Page Speed Optimization process can be under your control, there are certain aspects that are out of your hands, which is why you need to take your time and do a proper research before you pick a web hosting service.
Not only can your hosting affect your page's speed, it can also cause your website to be down or out of service every once in a while and that can also have an impact in how high (or low) you rank on Google. Please, don't take this decision lightly!
Best practice #2:  Measure your page speed with Google's Lighthouse
When it comes to optimizing your page's speed, you need to know how fast (or slow) your page is, and what better way to do it than by using an official tool by Google?
Google's Lighthouse allows you to check your web or web app's overall performance, going through the SEO practices of your site, its loading time and speed, among many other key features that will let you know exactly how you are doing and what you can do to improve it.
After Lighthouse is done testing your page's speed, it will give you a report full of relevant results to improve your loading time.
Lighthouse is easy to install through Chrome Developer Tools or by simply adding its extension to your Chrome's toolbar with a click.
Best practice #3:  Reduce the size of all multimedia resources
Although video, images and other multimedia resources are important to give your page a more attractive design, they can also slow down its performance, which is why compressing images is so important to optimize the speed of your website.
Using tools such as Compressor.io, you can reduce an 80% of your images without losing the quality of the photos to keep them looking stylish and striking to visitors in both mobile and desktop versions.
Compressing images equals faster loading of all of your page's components and, as a result, more chances of ranking higher on Google searches.
Best practice #4: Know your formats
Besides having compressed images and resources, you must also be aware of the different formats that you can use on your page, their pros and cons, as well as how each feature affects the overall page speed of your site.
When it comes to images, you can't go wrong with JPEG for compression since it is already lighter than PNG and can be reduced even more through online editing tools. However, if you want to add a really eye-catching photo, PNG is the right format for you.
Other popular format nowadays are GIF and, while they can a fun, dynamic touch to your page, they also tend to be particularly larger in size and should not be overused if you're looking to speed up your page.
Best practice #5: Minimize JavaScript and CSS
The whole process of minimizing CSS and JavaScript allows you to get rid of unnecessary elements that are slowing your page down. Said elements include comments, characters and white spaces among the code that increase the size of your website and can not be perceived by users.
You may think that, because your site seems to be working just fine, minimizing JavaScript and CSS is not a big deal, but it is actually one of the most important aspects of Page Speed Optimization.
There are several tools that can help you reduce JavaScript and CSS. For example, if you are a WordPress user, a plugin like Autoptimize will come in handy during your Page Speed Optimization efforts.
Best practice #6: Use asynchronous ads
Obviously, you want to earn money with your website and, therefore, you include ads in some of the pages. However, the speed of ads also has an impact of the performance of your site and, as a result, must be optimized as well.
While in no way you should avoid ads because you would be losing a lot of money and/or missing business opportunities, it is a MUST to use asynchronous ads.
If you're wondering what they are, asynchronous ads are those that load on a different server, ideally the one belonging to your partner(s) and don't depend or affect your website's speed, which is why they are ideal for Page Speed Optimization for both mobile and desktop.
These kind of third party ads can give readers a better experience when visiting your page too, so you should make them a staple in your web design.
Another tip is to keep ads to a maximum of five per page to avoid stuffing since that will make your users feel like you are too insistent.
Best practice #7: Don't forget about browser caching
Last but (for sure) not least: Use browser caching on your website to guarantee that every time someone goes back to your page, the browser "remembers" the most important features of your site, so it can load faster and smoothly.
How does this works? When someone visits your page for the first time and you are using browser caching, all the main elements, images, codes and resources are saved automatically to speed up the loading time if she/he ever go through your site again.
Furthermore, browser caching also allows the elements that are a part of the different sections of your website (such as logos, footers or headers, for example) to be stored on the visitor's browser of choice, resulting in less loading time.
To get browser caching for a WordPress site, you can use a plugin like W3 Total Cache that guarantees to improve your page's speed by saving all important data and features every time a visitor scans through your content.
If you're looking for more advanced page speed optimization service please contact us.
This article is part of our blog.