Digital marketing has become significantly more valued by SMEs in the past couple of years. When we started this journey of aiding businesses as they tackle their virtual marketing challenges, we set the goal of being one of the best providers out there. Today, we're thrilled to announce that Texonica is named on The Manifest's updated directory as one of the most reviewed digital marketing companies in Estonia!
To recap, here are the milestones, leading up to this award:
In 2017
A small team of experienced digital marketers and advertisers joined forces to establish Texonica. Our mission has been and always will be to serve as the marketing backbone of startups of medium-sized companies in their efforts to grow their business. Texonica lives the life of service, and we're happy to see our impact on our clients' success.
In 2020
MARQ Labs, a global beauty company, approached Texonica to handle its digital marketing efforts, which included keyword research, PPC support, and other strategic services. The end goal was to increase their conversions and find action items for their overall web strategy. Since then, we've begun working on their overall marketing presence and strategy, which has led to great results for the client.
We've increased their brand presence and ROI. We've also helped them scale through increasing their customer base.
In 2021
The Manifest announces its list of the most reviewed digital marketing companies in Estonia, highlighting Texonica at the top. Texonica has always been dedicated to delivering only the best service to our clients, and we're truly honored to be acknowledged as a company that values client satisfaction.
Having said that, we're incredibly grateful for the amount of support that we've received from our clients. Thank you for believing in us!
Ready to grow your digital presence and conversion rates? Texonica is waiting for you. Schedule a consultation today!
The improvements implemented at Google ads campaign and account level.
The general objective of daily optimization on every Google Ads campaign is to improve the performance of the campaign. Apart from implementing a few modifications, tracking the results that are generated is as important. It is pointless to implement a modification on the Google Ads campaign without tracking and generating adequate data and results that will determine the performance of a particular modification. Every modification implemented on Google Ads accounts and campaigns is usually visible in the "changes history' category and has always been a vital part that cannot be ignored. A newly added feature in Google is the notes that are visible in the charts. This can be implemented by launching campaigns after implementing the modifications and a change in the function can be identified by using novelty. For instance, if there is a reduction in click rates and the advertiser is not sure of the reason behind it, and every time the graph in "change history" is evaluated, the visible outcomes from the work function could be previous modifications that have been implemented (such as a modification in bid strategy).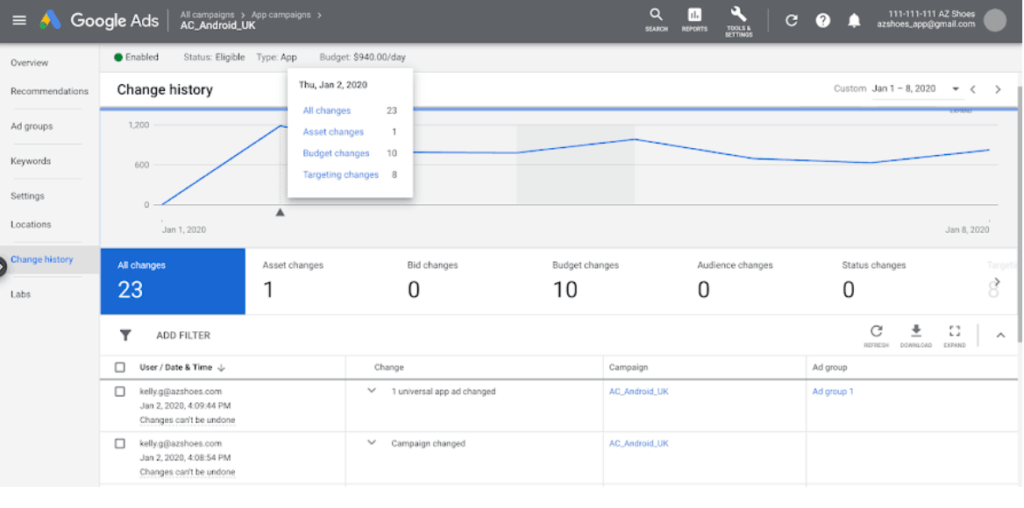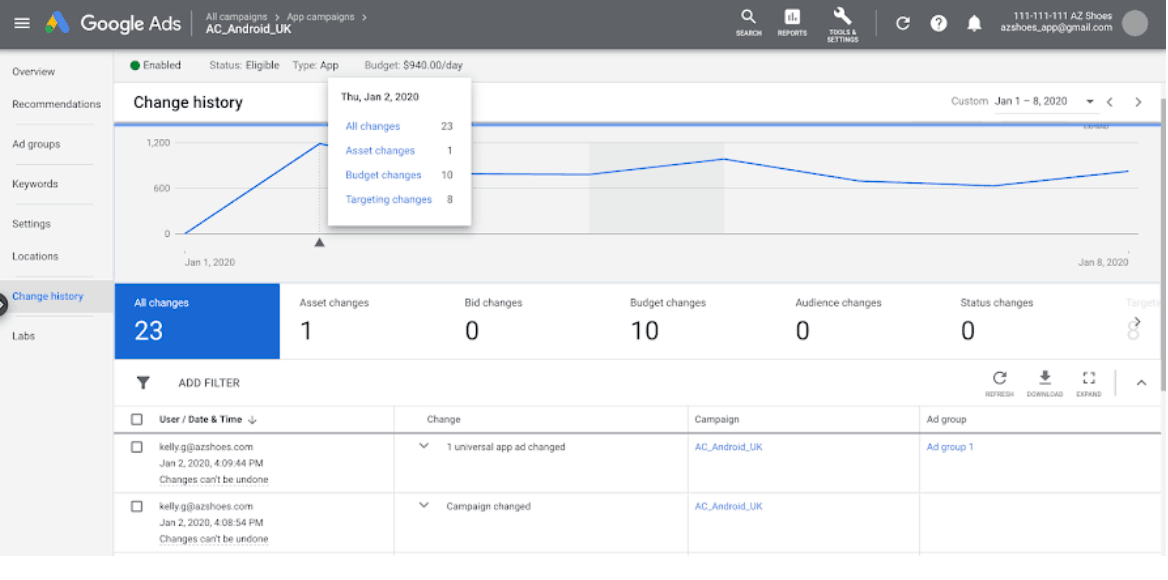 Source: https://support.google.com/google-ads/answer/9733082
Share remarketing lists through your MCC accounts easily
Remarketing is an excellent feature that everyone is already aware of. We are confident that you already know its meaning and functions. Remarketing lists (audiences) are very vital in an effective remarketing campaign. Remarketing lists offer seamless integration across several Google Ads (subs) accounts through MCC accounts but this operation usually comes with challenges in the past. Presently, remarketing lists can be easily shared through Google Ads since the introduction of a continuous audience sharing option.
Google Ads remarketing lists
In the months ahead, the feature of sharing the remarketing lists that have been developed in every Google Ads account will also be available in MCC accounts.
The effect of budget and changes in campaign objectives on Smart Bidding.
Advertisers can now gain insights into the performance of the campaign with the use of the bid simulator, which is based on the bid changes according to the keywords. This was previously available for campaigns implementing Target CPA Bidding and Manual Bidding until the 13th of January this year. This very date birthed the introduction of a bid simulator for campaigns that require the use of Target ROAS bid technique as well as the introduction of a new bid simulator. Target ROAS Bid Simulator reveals the connection that exists between targeted ROAS as well as the critical metrics that are determined when setting up. For instance, it is used to reveal the impact of increasing Target ROAS from 60% to 80% will have on the campaign. In other words, the number of clicks and impressions that would be generated by each campaign when compared with the selected Target ROAS till date. However, other items like ads, landing pages, competition ads and so on will be considered to be the same.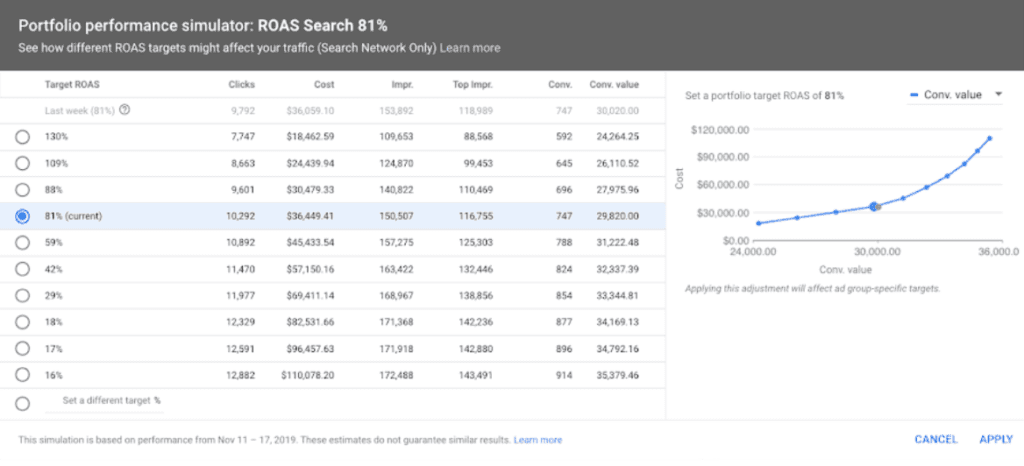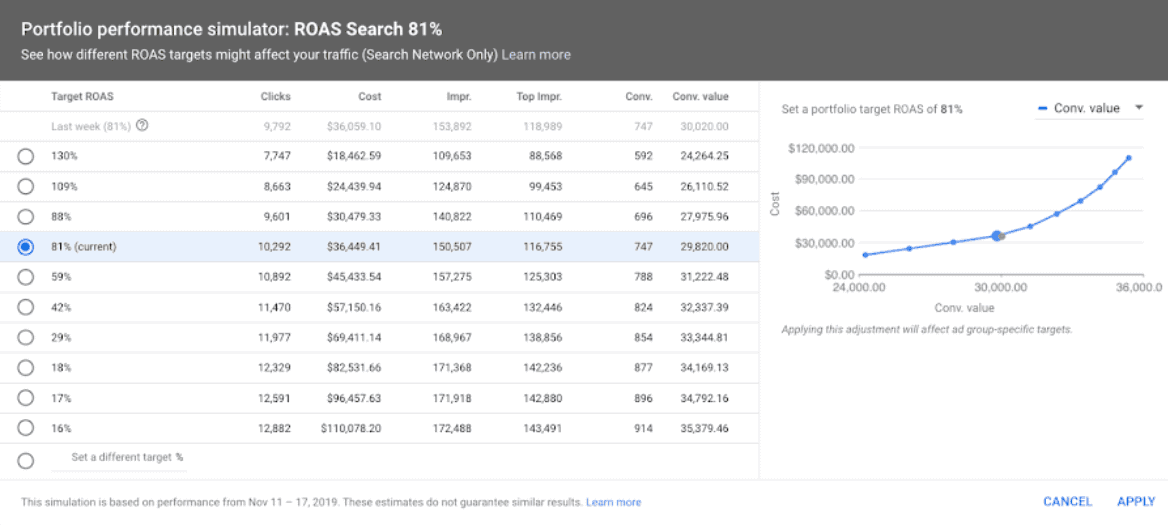 There must be frequent changes in the budgets for campaigns with the use of Maximize Conversions or Maximize Clicks. Just like Bid Simulator, the effect of budget changes on campaign performance will be revealed by the new bid simulator, in other words, the number of impressions and clicks that would be generated as a result of an increase or decrease in the budget. Either way, the perfect budget for your campaigns will be easily determined by the Budget Simulator.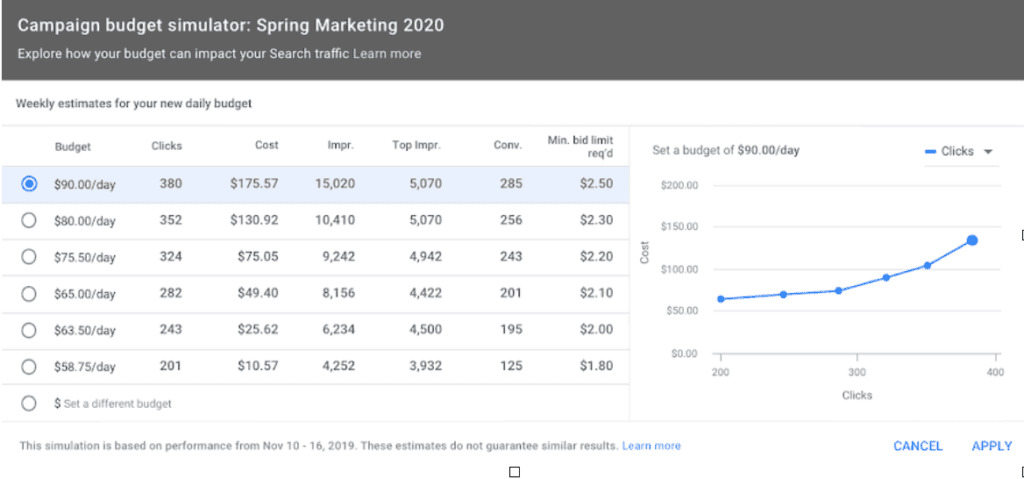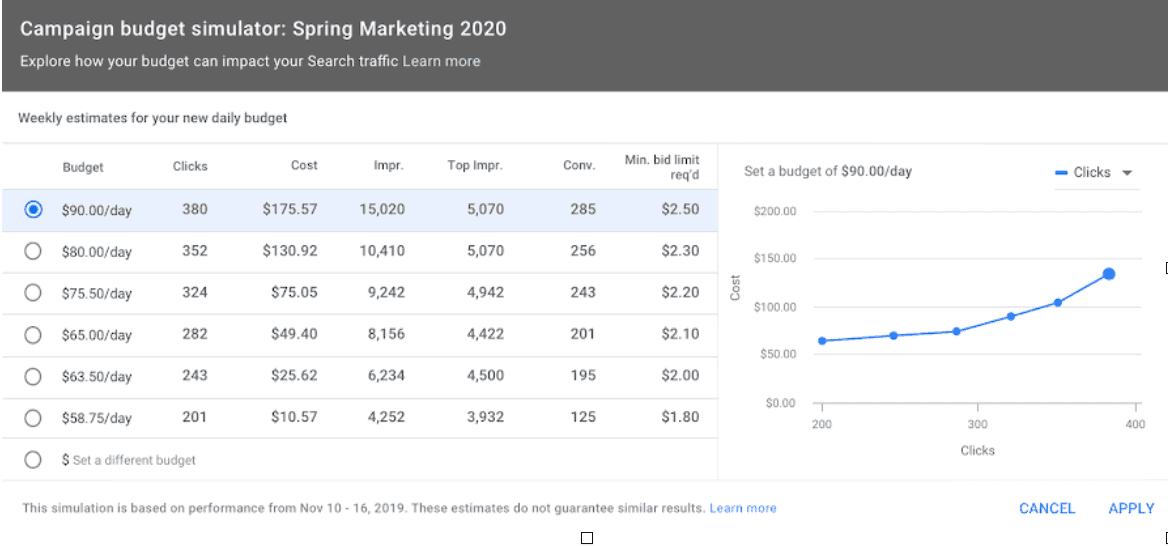 Source: https://support.google.com/google-ads/answer/9659555
Parallel Tracking is being mandated for video campaigns.
The importance of optimizing web pages and accessibility speed cannot be underestimated. A survey carried out by SOASTA indicates that there is about a 20% effect on conversion rates for every second used in downloading web pages on a mobile device. What is then the importance of Parallel Tracking here? Parallel Tracking gathers performance metrics in the background after directing users to a landing page. Google indicates that the advertisers implementing Parallel Tracking have a five-second reduction in page loading times on the average. This reveals the benefit of this feature. As from January, Parallel Tracking will become available which will be a required feature as from March 31st just like it is required for Search and Display campaigns. However, if you haven't, you are left with no other choice but to enjoy the benefits it offers.
Source: https://support.google.com/google-ads/answer/9698426
Automate Listing of Google Ads Conversions with Zapier.
Zapier is a web-based tool used for connecting and automating applications like Slack, Gmail, MailChimp with more than 1,500 available integrations. It offers simple integration in the absence of coding or development skills. Although this might initially seem like a Zapier ad, this news release will be much appreciated by every user that implements this tool as well as Google Ads. Conversions can be done both online and offline with the help of different CRM systems. Also, challenges are encountered when retrieving most specific data and results on certain campaigns, keywords and ad groups at the point of inserting conversion data into Google Ads system. As a matter of fact, these metrics are vital for quality campaign optimization. Offline Conversion Tracking enables you to input data generated from offline conversions into Google Ads system but this process can become complicated when converting from a CRM system. According to Google, this made them partner with Zapier to ensure easy integration that facilitates seamless entry of CRM data into Google Ads.
Source: https://support.google.com/google-ads/answer/9707540
Standard Delivery becomes a major requirement for Google Ads campaigns.
The Ad Delivery feature is used to specify the timeframe for your daily budget within a day. Last year, Standard Delivery was specified to be the only available selection (Accelerated Delivery deactivated) for Shopping, Search and Shared budget campaigns. The Standard Delivery feature enables you to have an even campaign budget the entire day. After the deactivation of Accelerated Delivery, Google constantly implements advanced features that enable advertisers to get the best results from their campaigns by making an announcement that beginning from April this year, the only Ad Delivery feature available for every new Display, Hotel campaigns and Video Apps will be Standard Delivery. In May 2020, all current Display, Hotel campaigns and Video Apps implementing Accelerated Delivery will be changed automatically to Standard Delivery.
Amongst today's online marketing channels, paid search engine marketing (SEM) is unquestionably a significantly better use of marketing budget than it was four years ago (when the organic search was less competitive than it is nowadays). But if you are looking to recruit new employees, you should think twice about placing money into terms "manufacturing jobs" or "plumber employment." Look at the Google search results yourself, and you might see what I'm pointing to.
When seeking out people searching for "job"-related terms, you have check who are you competing with. Right now, job search websites like Indeed, JobsFlag, GlassDoor, and iHireManufacturing, are on 1st to 4th pages of Google search results. What's even worse Google has a strong incentive to allow them to rank so well. These websites aren't just showing one or two job openings; they have thousands of them. So, as Google wants to make the search as helpful as possible, such companies will be always at the top of results.
Furthermore, if your HR department is using Adwords, they're also actively pushing paid listings on such sites. So, if you put money into Google Adwords, you're involuntarily putting your cash in competition with itself.
What is the Right Way to do Pay-Per-Click Advertising for Recruiting?
With so much fierce competition for job-related keywords, there are lots of reasons to stay out of the PPC game completely. In many corporate situations, HR and marketing aren't well-aligned for doing notably effective marketing campaigns, and many digital tactics go unused. For instance, social content marketing can hold immense potential for many industrial companies searching for new employees—and that can require very little cash spent.
But, if you do think pay-per-click is a crucial part of your HR marketing strategy, we suggest focusing solely on localized Google Adwords opportunities rather than just broad keyword terms. This way, you're blocking out most of the competition with national listing sites and only showing up when Google analyzes that localized search results would be most effective.
Keep Your Recruiting PPC Local and As Specific As Possible
The difficult part about using pay-per-click in digital recruiting is that the keywords are generally short-tailed than long-tailed. Typically people search the title they're seeking, plus words like "career", "employer", "job". The amount of searchers with lots of qualifications around their search is slightly low, with the exception of adding geographic keywords.
This indicates you need to get the subject keywords as specific as possible. For example, it's worth focusing on precise areas of your work, such as "plumbing jobs," or "gas welding jobs," rather than broader classifications like "manufacturing jobs."
Know that PPC Won't Solve Your Recruiting
Like any single marketing channel, Google Ads won't answer your recruiting needs all by its own. To be frank, it might not even make any difference in the number of applicants you're looking for. What will make a difference is a comprehensive approach that joins cash efforts like Google Ads with recruiting and brand recognition.
Using Google Ads when you own or work for a B2B Marketing company can be a complex task but, when used correctly, Adwords can really empower your business by attracting targeted, big-spending clients who, in turn, will bring money to the table.
However, there are a lot of ways in which a Google Ads campaign can go wrong and make you lose a lot of money, which is why this kind of ads have a reputation for being expensive.
Understanding that B2B requires a completely different approach than B2C Marketing is essential.
Unlike B2C brands, you are, for the most part, trying to do business with people who know what they're doing and who understand how a company works, so it will be harder to impress them.
In this article, we will try to break down how B2B is different than B2C Marketing and what you need to do if you're looking to use Adwords to improve your sales.
Scroll down to find everything you need to know before using Google Ads for B2B Marketing.
Why it is so hard to get an ROI when you use Adwords for B2B Marketing
First of all, you should know that Google Ads was conceived primarily as a B2C tool. This means that it was created as a way to connect businesses with their end-customers; a shoemaker with a shoe buyer. Once an online shoe reseller enters the picture, things can get a bit complicated… and expensive.
Let's say that you have a company that provides online booking tools for hoteliers and small hotel chains and you want to start advertising with Adwords. One simple mistake while setting up your Google Ads campaigns and you'll end up competing against b2c giants such as Expedia, Priceline and the like. Not only will they outbid you, but you won't be reaching the audience you need (you're not offering hotel bookings per se) and you'll end up wasting tons of money.
On the other hand, if you have a strong Google Ads strategy, a clear idea of who your audience is, the keywords you want to be shown for (and the right budget), Google Ads can quickly become your best business partner and friend.
Which leads us to...
Google Ads for B2B Marketing Companies: A recipe
Since, as mentioned before, B2B Marketing is targeted at a different kind of audience, you must have more than just a basic knowledge of what your potential customers are like before you even think about starting a Google Ads campaign.
A good idea is to create Buyer Personas. Think of them as your ideal customers, you need to put yourself in their shoes to understand what they are looking for and how you can help them out with your services and use that in your favor.
Once you have come up with a couple of Buyer Personas, you can determine the demographic data for your campaign's set up and then move on to the next ingredient: Keywords.
Keywords are key (pun intended) to your campaign because, if you pick the right ones, your page will appear everytime that your targeted audience searches for those terms. But how do you know you are using the perfect group of keywords?
A keyword research is highly recommended in order to use Google Ads for B2B Marketing. You can count on tools such as Google's own Keyword Planner to search for the most used keywords in your niche.
Then, you could do a little competitive research and see what other brands in your field are doing in terms of keywords. This will give you an idea of how hard it will be to rank high on search results and if there's someone out there already bidding on the same keywords you're planning to target.
Make sure you include variations of the keywords your potential customers could look for and make them as niche as possible for a bigger chance of getting to the right kind of audience.
By now, you are probably wondering how much does Adwords for B2B Marketing cost and there is not an exact answer for that, but Google Ads campaign costs can get out of control really quick.
It is advisable to run your campaign in installments with a small budget at first and, as each installment ends, go through what worked and what could be improved to make the most out of the entire process. You can use tools like Google Analytics.
You could learn that a keyword wasn't as successful as you hoped or that you targeted the wrong audience, but don't freak out. A big part of advertising is learning from your mistakes and getting better for the next campaign. Just measure every step you take to ensure a higher ROI and don't be too ambitious with the budget, at least not from the get-go.
Nonetheless, getting prospects to click on your ads is only a part of Search Engine Marketing. In the end, your goal is to make money and, to do so, you need your audience to complete the conversion process and turn into actual clients.
It is important to remember that you are aiming for other business owners and not regular customers. Therefore, you must speak their language and show them, rather than tell them. Don't try to oversell or use emotions to your advantage because they will detect your tactics right away. After all, it's professionals we're talking about.
Every element of your campaign's landing page needs to be built around the unique needs of your audience. For example, you can highlight the benefits of your services in terms of quality and price (both important criteria for business owners) in a very strong copy.
After all, staying true to your brand's personality will do wonders to make you stand out from the very (VERY) competitive field of B2B marketing, so don't be afraid to throw some humor into the mix if you feel it adds to the overall message.
You could also include videos with happy clients giving their testimony on their experience with your products. Doing this, you'll showcase the quality of what you do and how trustworthy your company is, inspiring visitors to invest in your services.
Last but not least, don't put all your eggs in one basket. Include Social Media, Content, Inbound and Email Marketing when relevant and convenient to increase your campaign's visibility. Take into consideration that it all must be planned and cohesive with what the ultimate goal of your advertising is.
Conclusions and final thoughts
Always keep in mind that B2B and B2C are completely different things and, as such, the approach can't be the same.
Target segmentation is EVERYTHING when it comes to Google Ads for B2B.
Run your campaigns in small installments and don't get crazy with the budget right away.
It's not about how many prospects see your ads or click on them, but about how many actually complete the conversion process.
Measure every single aspect of the campaign with an analytics tool.
If you would like to learn more about our services please go to our home page. To check results we delivered for clients please go to case studies page
When it comes to ranking high on Google and other Search Engines, few things matter as much as Page Speed Optimization.
Google's latest update pays more attention to how many minutes a page takes to be fully loaded on mobile devices, which is why having a website with quick features is as important today as having high-quality content, using keywords or linking to both internal and external pages.
Furthermore, page speed is key to a user's overall experience on your website. After all, as Google points out, people want answers to their questions and they want them FAST, so if your site takes too much time to load, they are very unlikely to visit it again.
"People want answers to their questions and they want them FAST, so if your site takes too much time to load, they are very unlikely to visit it again."
Therefore, optimizing your website only for desktop won't do you any favors if you want to appear on the first pages of searches. You need a responsive page that will load as fast on mobile devices as it does on a desktop.
On this post, we'll give you enough reasons to optimize your page speed ASAP! We'll also give you some tips to make your website load faster to keep users coming back for more AND to (hopefully) rank higher on Google.
Scroll down to find out how you can optimize your page's speed right now!
Two Reasons for Page Speed Optimization
1) Page load time affects conversion rates
Whether you own an e-commerce or a blog, the ultimate goal is to turn visitors into clients, completing the conversion process and, as Hubspot points out, if your site takes longer than three (3!) seconds to load, you may face losing nearly half of your audience.
These days, Internet users are more impatient than ever and will move to another page if yours is not running smoothly. Also, as mentioned before, it's very unlikely for a user to go back and give a website another chance if its overall performance is not satisfying.
While it's true that mobile users are slightly more forgiving (they will wait an average of four seconds for a page to load), your sales will experiment a considerable decrease if the load speed is not optimized.
On the other hand, if your page is purely educational, you could also benefit from having a fast website that your readers can return to at any time.
2) Optimizing your pages allows Google to index more parts of your site
Regardless of the size of your website, it probably includes several landing pages or sections to address different services, products and parts of your business.
If all those different pages are optimized to load correctly and quickly, their chances of being indexed by Google are bigger and, therefore, the main page could also rank higher whenever someone in your targeted audience searches for any of your keywords.
The main lesson here is that, while it is incredibly important to have a fast-running main page, every part of your website needs to be optimized in order to tell Google and other Search Engines that things are running smoothly AND for your visitors to be motivated to come back.
Now that we talked about some of the benefits of page speed optimization, we're sure you're wondering what you can do to improve your overall page loading time. Keep reading to find out how you can make your website faster!
What You Can do in Terms of Page Speed Optimization: Best Practices
Best practice #1:  Pick your web hosting service wisely
First things first: If you are only looking to start your own page, it is crucial to choose the appropriate web hosting service for your business or brand, according to its unique needs, strengths and weaknesses.
While a lot of the Page Speed Optimization process can be under your control, there are certain aspects that are out of your hands, which is why you need to take your time and do a proper research before you pick a web hosting service.
Not only can your hosting affect your page's speed, it can also cause your website to be down or out of service every once in a while and that can also have an impact in how high (or low) you rank on Google. Please, don't take this decision lightly!
Best practice #2:  Measure your page speed with Google's Lighthouse
When it comes to optimizing your page's speed, you need to know how fast (or slow) your page is, and what better way to do it than by using an official tool by Google?
Google's Lighthouse allows you to check your web or web app's overall performance, going through the SEO practices of your site, its loading time and speed, among many other key features that will let you know exactly how you are doing and what you can do to improve it.
After Lighthouse is done testing your page's speed, it will give you a report full of relevant results to improve your loading time.
Lighthouse is easy to install through Chrome Developer Tools or by simply adding its extension to your Chrome's toolbar with a click.
Best practice #3:  Reduce the size of all multimedia resources
Although video, images and other multimedia resources are important to give your page a more attractive design, they can also slow down its performance, which is why compressing images is so important to optimize the speed of your website.
Using tools such as Compressor.io, you can reduce an 80% of your images without losing the quality of the photos to keep them looking stylish and striking to visitors in both mobile and desktop versions.
Compressing images equals faster loading of all of your page's components and, as a result, more chances of ranking higher on Google searches.
Best practice #4: Know your formats
Besides having compressed images and resources, you must also be aware of the different formats that you can use on your page, their pros and cons, as well as how each feature affects the overall page speed of your site.
When it comes to images, you can't go wrong with JPEG for compression since it is already lighter than PNG and can be reduced even more through online editing tools. However, if you want to add a really eye-catching photo, PNG is the right format for you.
Other popular format nowadays are GIF and, while they can a fun, dynamic touch to your page, they also tend to be particularly larger in size and should not be overused if you're looking to speed up your page.
Best practice #5: Minimize JavaScript and CSS
The whole process of minimizing CSS and JavaScript allows you to get rid of unnecessary elements that are slowing your page down. Said elements include comments, characters and white spaces among the code that increase the size of your website and can not be perceived by users.
You may think that, because your site seems to be working just fine, minimizing JavaScript and CSS is not a big deal, but it is actually one of the most important aspects of Page Speed Optimization.
There are several tools that can help you reduce JavaScript and CSS. For example, if you are a WordPress user, a plugin like Autoptimize will come in handy during your Page Speed Optimization efforts.
Best practice #6: Use asynchronous ads
Obviously, you want to earn money with your website and, therefore, you include ads in some of the pages. However, the speed of ads also has an impact of the performance of your site and, as a result, must be optimized as well.
While in no way you should avoid ads because you would be losing a lot of money and/or missing business opportunities, it is a MUST to use asynchronous ads.
If you're wondering what they are, asynchronous ads are those that load on a different server, ideally the one belonging to your partner(s) and don't depend or affect your website's speed, which is why they are ideal for Page Speed Optimization for both mobile and desktop.
These kind of third party ads can give readers a better experience when visiting your page too, so you should make them a staple in your web design.
Another tip is to keep ads to a maximum of five per page to avoid stuffing since that will make your users feel like you are too insistent.
Best practice #7: Don't forget about browser caching
Last but (for sure) not least: Use browser caching on your website to guarantee that every time someone goes back to your page, the browser "remembers" the most important features of your site, so it can load faster and smoothly.
How does this works? When someone visits your page for the first time and you are using browser caching, all the main elements, images, codes and resources are saved automatically to speed up the loading time if she/he ever go through your site again.
Furthermore, browser caching also allows the elements that are a part of the different sections of your website (such as logos, footers or headers, for example) to be stored on the visitor's browser of choice, resulting in less loading time.
To get browser caching for a WordPress site, you can use a plugin like W3 Total Cache that guarantees to improve your page's speed by saving all important data and features every time a visitor scans through your content.
If you're looking for more advanced page speed optimization service please contact us.
This article is part of our blog.
A short interview with Kamil about starting e-commerce Adwords campaign.
Learn how to avoid costly mistakes when starting out.
If you would like to learn more please feel welcomed to read our blog.
Running an Adwords campaign for SaaS/IT type of business is different from other industries.
Let's compare it to the e-commerce industry.
In the e-commerce, we instantly see a flow of data showing us exactly which keywords are converting into purchases and which aren't.
With SaaS campaigns, we don't have instant purchases. We are entering a world of very long purchase funnels containing free trial offers lasting even 30 days. During which we have to do multiple phone calls or email sequences to increase the conversion rate.
Due to this extended timeframe, all the data is coming to us very slowly. To decide which keywords truly work in our particular situation we need months to get a substantial amount of data.
On another hand, each conversion is worth much more, especially when we count how much the new customer will spend over the lifetime.
If you tried running Google Adwords before, you may found that it was very costly, getting no or very little results. Still, you're in a different battle than most of the e-commerce businesses working on very thin margins. You have space to experiment.
Before we restart Adwords first we need to talk about metrics.
There can't be a successful Adwords campaign if we don't track what's important for us.
#1 How much you can invest to acquire a customer
One of the most important metrics is how much you can invest to acquire a new customer. The gold standard it around 3:1 ratio. In other words, you should be able to spend one-third of the lifetime value of a customer to acquire him/her.
#2 Tracking results
In e-commerce, it's very simple to decide on the campaign goals. You just track which clicks converted into orders.
With SaaS, we need a little bit more sophisticated solution.
You need to track every vital moment of a customer's journey on your site.
Starting from their first time on your site, through the signup process, moving to the trial period and finishing with the credit card details.
By analyzing all those points it's much easier to determine which Adwords campaign results in the most buying customers. By only focusing on signups it's very difficult to decide which keywords have a higher return on investment.
#3 Using trial period to the fullest
It's the most important step in the client's journey.
Without strong onboarding, a client can quickly get stuck in your application and just get back to their old habits.
The onboarding process should include elements like:
- Tooltips and guided tours for the first time users
- Optional followup calls if possible
- Email sequences based on the most common problems providing tutorials and explaining what are the next steps
- A webinar allowing people to ask questions and giving them answers. It's also vital to reach out to people and ask them to attend.
- At the end of the trial cycle, there needs to be a stronger focus on activating trial users to become paying customers.
All those elements need to be backed up by Adwords remarketing campaigns.
#4 Test shorter trial period
As we already discussed SaaS businesses have longer sales cycles when compared to e-commerce. In many cases, it is worth testing if we really need 30 day trial period.
If 7 or 14 days is enough for trial users to decide if a product is worth buying then we can gather more data in less time.
It's always worth to mention that some users will be asking for a longer trial period. In those cases, it's better to give them those longer trial periods.
#5 Experiment with the pricing
In many cases, SaaS businesses have too low prices. This in many cases ends in the inability to grow or not having the necessary money to invest in advertising to see any return.
If your customer lifetime value is too low when compared to your competition you won't be able to outbid them on all necessary keywords.
Optimizing pricing will provide the additional revenue necessary to stay competitive.
#6 Using freemium model
It's very dangerous tool in inexperienced hands. You're much better of using trial based solution than trying to convert people from free solution to the paid one, especially when you know that only 1-2% of free users turn into paid ones.
#7 Reaching out to users from the colder parts of the funnel
Advertising to people who are actively looking for a solution is lucrative but at the same time very expensive.
To lower the cost try creating free giveaway materials that people will appreciate receiving. Thanks to the reciprocity and constant communication it will be much easier to convert those visitors into buyers later down the line when they're looking out for a paid solution.
While your competition will try to win them solely with ads, you will be already in visitors minds. Thanks to the great handouts.